Thank you for visiting:
Shawnee Volunteer Fire and Rescue Department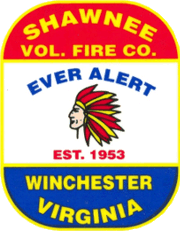 Shawnee's website is in the process of being updated. Please be patient, and check back for updates.
Home of Engine Company 4. We are mixed company consisting of career staff and volunteers. We are one of four fire and rescue companies in the city of Winchester, VA, and provide mutual aid to other companies in Frederick County.
Our station is located on the Southside of Winchester, VA off of Weems Lane. We have an 8 bay station currently housing an engine, a wagon, two ambulances and a utility truck. Our station was built in June 2003 and has a large functioning kitchen, day room, exercise room, and large bingo hall attached to the station.